Emergency Communications Floor Operations
The NTECC is always open. We are staffed 24/7, 365 days a year. It takes an entire team of well-trained and dedicated individuals to run such an operation. The NTECC consists of four separate departments: Administration, IT, Training, and Operations. Four separate shifts (morning and deep nights) maintain a roster of 8 to 10 Emergency Communications Specialists (Dispatchers) and at least 1 Operations Supervisor at all times. These members are trained in specialized areas of call-taking, police dispatch, fire dispatch, and NCIC operations.
Call-Taking
The NTECC Emergency Communications Specialist is the link between citizens and all Police / Fire / EMS emergency and non-emergency services. Call-takers are trained to handle the enormous variety in call content such as calls about illegally parked vehicles, domestic disturbances, traffic accidents, and life-saving medical calls, to name only a few.
If it is determined that a call for service is necessary, a call will be entered into our Computer Aided Dispatch (CAD) system. This system contains a detailed map of Carrollton, Coppell, Farmers Branch, and Addison. Each is linked to a massive database with premise information (burglar alarm permits, business names and locations, etc.). The call taker will enter important information into a call-screen which updates instantly to other call-takers and dispatchers. The call-screen will then be pulled up by our Police and/or Fire dispatchers who will assign appropriate units to respond and continue to update information to responders as the call-taker gets it from the caller.
Police Dispatch
The NTECC has four main police radio channels. Each dispatcher is responsible for maintaining officers' locations while they are performing traffic stops, assists, or investigations, and assigning the many incoming calls for service to the appropriate responding officers, following up on license plates to ensure vehicles are not stolen, and sending a backup officer to any officer in need.
Fire & Emergency Medical Services Dispatch
The NTECC can operate as many as a dozen different radio channels at any given time. Dispatchers are responsible for the timely dispatching of fire and EMS calls for the NTECC cities. They also pay close attention to resource allocation throughout the city during high volume emergency times (i.e. structure fires, special rescues, or major weather events).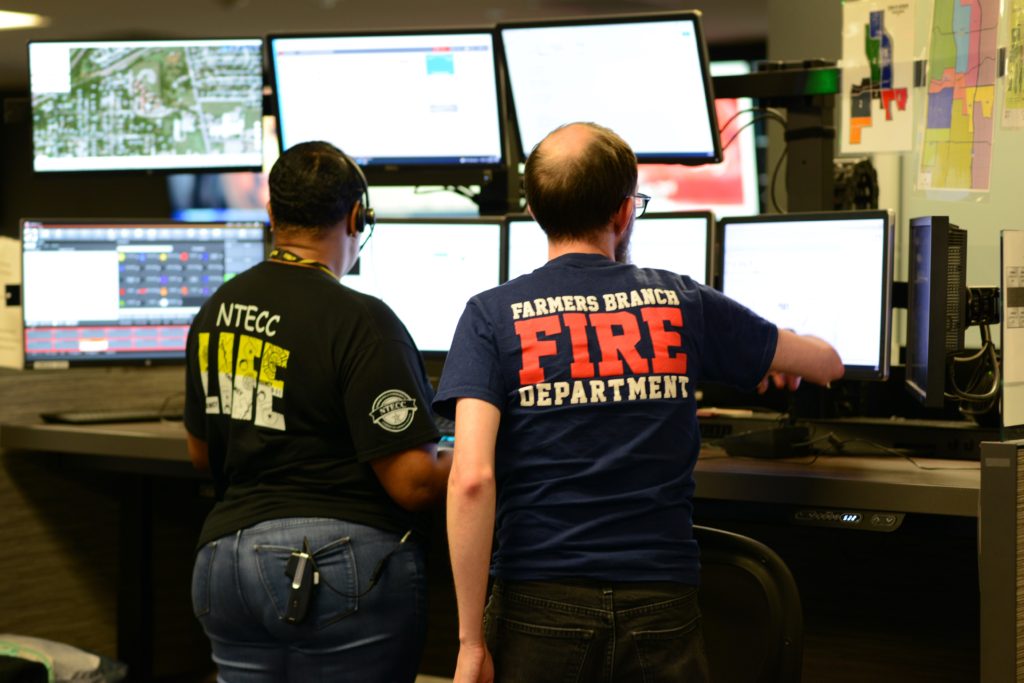 NCIC Operations
NCIC (National Crime Information Center) Operations is where officers request checks for warrants on persons and stolen property. Dispatchers are trained to read specialized computer returns to ensure thorough and correct information is relayed to the officer in the field. NCIC operators also assist officers in the field by requesting wreckers to scenes for accidents, stranded motorists, and arrests, sending emergency bulletins to all of the officers in the field, as well as neighboring agencies, assisting officers and call-takers with cell phone traces, or sorting through records to assist in locating a caller who might not be able to provide a location.