The new VESTA NG9-1-1 Solutions Suite
Automate
Improve Operational efficiencies
Integrate
Be ready for i3 content
Locate
Pinpoint callers' location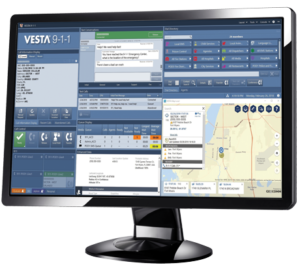 VESTA® 9-1-1
The VESTA® 9-1-1 solution, the heart of the VESTA suite, innovates for you. It's new capabilities help us manage the rapid evolution of technology to meet citizen expectations. At the same time, its functionality makes it possible to gain back valuable time and resources and increase productivity. Plus, advanced data functionality offers a simple and predictable way to help us implement and manage i3 content.
VESTA® Map Local
Pinpoint your location faster – with greater accuracy – to save more lives.
Call Takers and First Responders need greater location accuracy and the means to meet the challenges of mobile calls to 9-1-1. And now, it's all possible with the VESTA® Map Local solution, viewable from the VESTA 9-1-1 console. The solution combines the power of ArcGIS online technology and RapidSOS technology to not only pinpoint locations, but to improve decision making and response.
VESTA® Analytics
Get the indisputable facts to run the center more effectively.
Given the many demands placed on us, we need to know far more than call counts and answer durations. We need undeniable facts on pertinent call details and call center activity from multiple perspectives at any given time.
VESTA® SMS
Minimal change, reduced disruption and simple learning with the integrated Text-to-9-1-1 solution.
With the VESTA SMS solution, Dispatchers get a reliable way to process text messages directly from the VESTA 9-1-1 console
VESTA® 9-1-1 Heads-up Display
We keep informed and connected when it matters most with a powerful heads-up display.
The VESTA® 9-1-1 Heads-Up Display supplies real-time, statistical details on current activity. The data is displayed on the wall via a large screen, so everyone's in the know at all times.